SOLD 6-16-2015 !!

For your consideration today is a 2.5 acre desert lover's retreat which is surrounded on three sides by thousands of acres of publicly owned lands.  This means that while you situate yourself on your own private land, most all the adjacent land to you is open for your use at no additional charge.  This property is an old remnant of when the BLM would sell off small parcels of private land for homesteading and to get people out settling the countryside (and no, they no longer offer this program)  - there is one immediate neighbors bordering this property to the north, other than that it is completely surrounded by protected lands!

The lot has a decent dirt road running near it, and the paved Sterling Road and Highway 395 are 1/4 mile away.  A desert retreat built here would be only minutes away from the Kennedy Meadows area which provides plenty of high altitude fishing, hunting, and hiking.  Pearsonville is about 5 minutes away, Ridgecrest about 20.
Pearsonville, the hubcap capitol of the world, is a small town but has a busy gas station and subway sandwich shop, junkyard, antique store, Golden Cactus curio shop, and a couple other businesses.  Inyo County has a limited amount of property for private ownership as over 98% of the land here is owned by BLM, USFS, and the LADWP.  Only tourism (and recreation) keeps the local economy afloat.
With $100 down you can assume a balance of $6,900 to be paid in monthly installments of $73.19/month for 10 years. (5% interest)
I'm also open to a trade, if you have an old tractor let me know and we can discuss.
A real estate contract will be sent out after the down payment is received and clears.  This is raw land sold as is.  I will respond to all emails promptly.
No Commissions!!
No Hidden Fees!!
No Credit Checks!!
No Prepayment Penalties!!
Additional information: Inyo County, OS-40 zoning.  Taxes are current and approximately $110/year.  The successful buyer will be responsible for paying the yearly taxes beginning in November 2015.  The assessor's parcel number is #037-212-02.  Mineral rights subject to any reservation on record, however, any rights owned will be passed on to buyer.  Well and septic are on your own.  There is no time limit to build.  Seller carries paper, no extra fees for drawing or mailing documents.  I will hold the deed until paid in full.  After full payment is made, I will record the deed in the buyer's name(s) at no additional charge.
Additional information on Inyo County's OS-40 zoning, please see link:
http://www.qcode.us/codes/inyocounty/view.php?topic=18-18_12&showAll=1&frames=on
#1  Near the 2.5 acres and looking towards the southern sierra mountains.  As you can see, the land has great views - built into the mountains is the LA aqueduct where most of the life blood of the Owens Valley flows.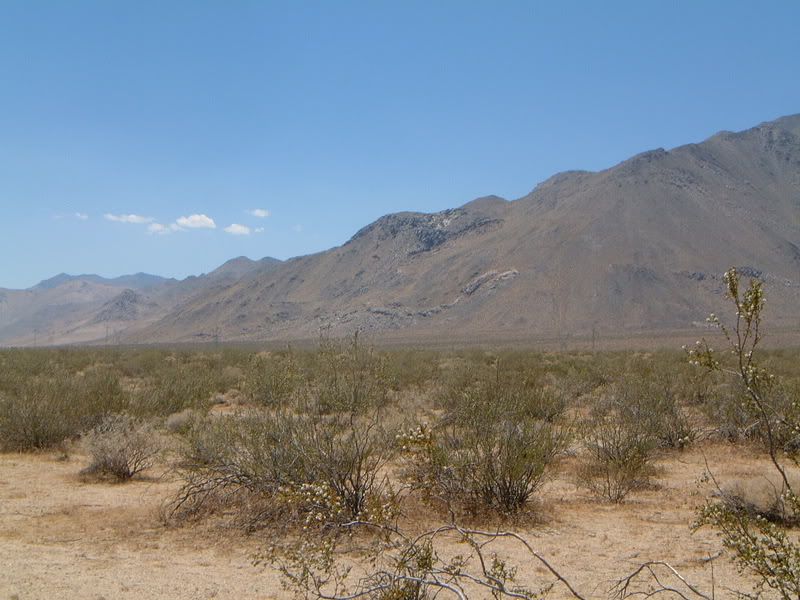 #2  The same western views, No Name Canyon in the distance.

#3  Poking around in the brush looking for corner surveys.  Sometimes the BLM will do them for you, of course, your results may vary.

#4  I like the shapes in the mountains.  This shot looks from the property across the 395, then over a huge lava flow to the mountains within the China Lake Naval Air Weapons Station.

#5  Similar views looking east towards Panamint Valley and Death Valley.
#6  The farthest mountains in the distance are the Sierra Nevada range.  A southern facing home would have these views and get great California sunshine all year round.  Practically everthing you see is protected land and won't ever be built on.
#7  Northern view.  (plenty of chaparral and creosote bushes)  Looks like a wild-lands fire up in the sierra.  Some locals think the that purpose of the USFS is to lock up our lands and 'let them burn'.

#8  Views east.
#9  Faint aqueduct line can be seen.

#10 California map.  Closest major city is Ridgecrest, about a 20 minute drive from the land.  Los Angeles is about 2.5 hours.
#11 BLM map.  The yellow on the map coincides with BLM lands.  As you can see the property is surrounded by thousands of acres of designated open space.  Because the property is 2.5 acres in size, it doesn't appear on this map because it is too small to show.
#12Topo map.  2.5 acres = 330 feet x 330 feet.  Plenty of room to do whatever you'd like.  Out of all the public agencies, BLM makes for the best neighbor in my opinion as they are open to allowing multiple uses on public lands.  Buy this land today for about six and- a-half cents per square foot.  The arrows shown in the below map represent faint vehicle roads that can be used for access.